Inside the Big Game Industry: Trophy Hunters Exposed
Five years ago, a dentist from Minnesota killed Cecil the lion Hwange National Park's most famous resident. This caused an outcry in the United Kingdom and in the rest of the world against trophy hunting. Yet people are still killing big game for sport.
A new book reveals explosive insight into hidden world of trophy hunting. The book was written by Eduardo Goncalves, a former WWF consultant, CEO of a major UK animal charity, journalist award-winning founder of the Campaign to Ban Trophy Hunting which is supported by over 100 celebrities.
Eduardo Goncalves is currently leading an international campaign to close a loophole in CITES wildlife trade laws which controversially allow trophy hunters to shoot critically endangered animals. The campaign is supported by dozens of conservation groups as well as Members of the European Parliament across the EU and political parties. He is also working with wildlife and animal welfare groups across Europe to ban hunting trophy imports throughout the EU, and is assembling a group of lawyers and senior politicians to push for an international treaty banning all trophy hunting around the world.
Among the astonishing revelations in the book are how:
Powerful trophy hunting bodies are posing as conservation organisations in order to weaken wildlife conservation laws, so that hunters can shoot and take home trophies of threatened species
The Convention on International Trade in Endangered Species (CITES) – the body meant to protect wildlife – is allowing trophy hunters to shoot tens of thousands of animals at risk of extinction every year
Steven Chancellor, a leading fundraiser for US President Donald Trump, broke the world record for the biggest ever trophy lion
A former Vladimir Putin right-hand man is one of the world's 'top' trophy hunters and has hunting trophies of more than 250 species at his home 60km outside Moscow
Prestigious industry awards have been bestowed on a paramilitary death squad leader linked to the deaths of more than 1 million dissidents and ethnic minorities
Michel Bergerac, a record-breaking trophy hunter and member of Safari Club International, was also a World Wildlife Fund (WWF) Director
The US Salvation Army and Boy Scouts Association is helping the industry to recruit tens of thousands of children as hunters: psychologists and criminologists fear this could lead to a rise in violent crime
The trophy hunting industry made contributions totalling over $1 million to the congressional election campaigns of pro-hunting politicians including US Secretary of State Mike Pompeo, Interior Secretary Ryan Zinke (who was responsible for America's hunting laws and trophy import regulations), US Senate leader Mitch McDonnell, and House of Representatives speaker John Boehner
A trophy hunter still alive today is thought to be the only man in history to have killed 100+ lions and 1,000 elephants, and has more than 4,000 confirmed kills
The use of trophy hunting as a 'cover' for wildlife trafficking, and how the Chinese are now the world's top hunters of white rhinos
The book also reveals:
The identity of over 500 hunters who have won industry awards for shooting all the 'African Big Five' – lions, elephants, rhinos, leopards, buffalos
Scientists fear that South Africa's canned lion hunting industry, and the sale of lion bones for traditional Chinese medicines, could spark a devastating new disease outbreak
Some of the industry's top donors and hunting group leaders include Trump fundraiser Steven Chancellor, well-known drinks brands (Budweiser, the Bacardi family), vehicle manufacturers (Yamaha), oil companies (Chevron, Halliburton, Shell Oil), banking institutions (Morgan Stanley), gun-makers (Beretta)
Controversial funding has come from US schools, the Scouts Association, and American and European taxpayers.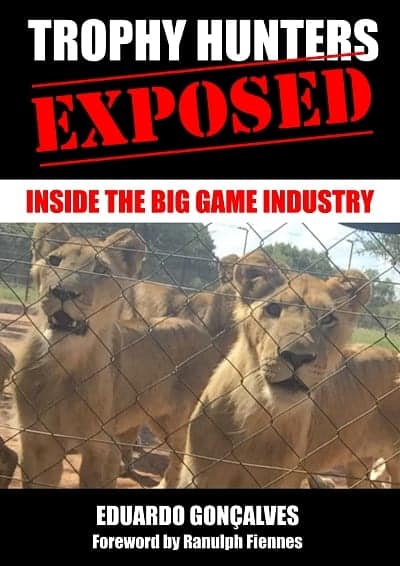 The foreword has been written by legendary explorer Sir Ranulph Fiennes, who grew up in Africa:
"Far from protecting endangered species, the law today is failing wildlife.  As many as 1.7 million animals have been killed by trophy hunters over the past decade.  Hundreds of thousands of these are from species protected by law because scientists say they are at risk of extinction.  We are frequently told that we face a biodiversity crisis every bit as serious as the climate crisis.  Yet the slaughter, inexplicably, continues unabated".
The preface has been written by Bishop John Arnold, the Catholic Church's official spokesperson on Environmental affairs in England:
"We continue to slaughter animals, often in the cruellest fashion, for sport and fun. How can we claim any dignity in that? What pride can there be in arming ourselves with guns to kill defenceless creatures which are no threat to us? There are arguments that can be understood about the killing of an animal for its meat – but for a trophy to hang on the wall? There can be no justification in that."
Hunting industry
The author, Eduardo Goncalves explains: "Trophy hunting is often seen as an aberration by a handful of individuals. However this investigation shows it is a large, powerful industry with a well-oiled and generously-funded lobbying machine."
In echoes of '1984', the hunting industry claims killing animals for selfies and souvenirs has 'conservation' value. Tobacco companies once promoted 'healthy' cigarettes and the oil industry claimed global warming would 'green' the planet.
Some of these 'conservationists' have secured influential positions within wildlife decision-making bodies, however they are today revealed to be among the world's leading trophy hunters. Their organisations are industry fronts more interested in protecting 'hunters' rights' than endangered animals. They have literally put the 'con' into 'conservation'.
"South Africa's captive-hunting industry is out of control, with dozens of species being bred for quick and dirty trophies and new hybrid animals being bred for novelty value. South Africa risks, for a second time in recent history, becoming an international pariah with potentially devastating consequences for the country's economy and tourist industry."
Endorsements
"If this book doesn't get trophy hunting banned, I don't know what will. This is an incredible investigation that reveals everything the industry would rather you didn't know."
Legendary film star Dame Judi Dench
"If there's one book to buy about animals this year, this is it.  Trophy hunting is legalised animal abuse on an industrial scale.  We cannot call ourselves civilised while we allow trophy hunting.  'Trophy Hunters Exposed' tells us why we must abolish it."
Joanna Lumley
'Trophy Hunters Exposed – Inside the Big Game Industry' is published by Green Future Books Ltd and is available in paperback and kindle from www.greenfuturebooks.com
Proceeds will be donated to the Campaign to Ban Trophy Hunting
For background about the author, see https://edgoncalves.wordpress.com/about/