The African Conservation Foundation becomes Actor for the UN Decade on Ecosystem Restoration
The African Conservation Foundation (ACF) has officially become an Actor for the UN Decade on Ecosystem Restoration. The partnership recognises ACF's critical role to build capacity for conservation and ecosystem restoration in Africa – engaging local NGOs and communities – for people, nature, and our climate.
Led by the UN's Environment Programme (UNEP)and Food and Agriculture Organization (FAO), the UN Decade commits to the protection, conservation, and revitalization of ecosystems worldwide. Only with healthy ecosystems can we achieve global development goals, improve people's livelihoods, reduce climate risks, and halt de loss of biodiversity.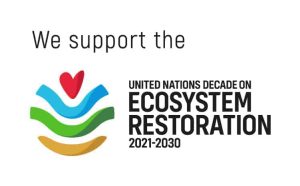 The wildlife of sub-Saharan Africa faces unprecedented level of threats from loss and fragmentation of habitat, poaching, hunting, climate change, and population growth to name but some. There has been a steep generational decline to a vast number of species of fauna and flora, and the IUCN Red List demonstrates that many are vulnerable to extinction, including some of the continent's most iconic species.
Large conservation organisations have an important role to play, but saving Africa's wildlife can and will only happen if a robust network of well-functioning local organisations are working deeply within local communities.
Currently, however, there is a significant lack of local organisations with adequate capacity, skills, resources and funding – ACF exists to tackle this core problem.
As a Restoration Implementation partner, ACF will strengthen local capacities and lead restoration efforts through its landscape approaches – integrating biodiversity conservation, rural development and carbon sequestration through bottom-up, community-led projects.
Ecosystem restoration is increasingly seen as an immediate and effective way of tackling biodiversity loss and climate change at the same time. In the next decade, ACF will increase its efforts to promote and accelerate the restoration of savanna, rainforest, wetland and other landscapes in Africa, focusing on key biodiversity areas and ecological corridors.
With the support of our sponsors, partners and donors, ACF is proud to contribute to the Decade as a Restoration Actor. To support our ecosystem restoration work, please consider donating to ACF.
Learn more about the United Nations Decade on Ecosystem Restoration:
Photo: Antony Trivet (Scopio)