Plastic recycling is not enough: we need to address plastic pollution at the source
While organisations, scientists, governments and activists from around the world debate on how to save the planet from plastic waste, how can they really begin to solve this issue when we have no facts about where exactly the pollution is or who is responsible?
"Plastics are among the most ubiquitous materials in our economy, our lives, and our environment, they are also among the most pervasive and persistent pollutants on Earth".
"If growth continues on its present trajectory, plastic production, could create 56bn metric tons in cumulative greenhouse emissions by 2050 – consuming a staggering 13% of the Earth's entire remaining carbon budget". Carroll Muffett, The Guardian
Call to action!
Our partner Act Now faces this problem head on by involving every environmental group worldwide to help discover where pollution is in every country, where it ends up, what types of plastic, who is responsible and much more.
We do this by asking people to join in and use a fun social media app, where anyone by simply taking a photo of the plastic waste that they find in day to day life, can upload to the timeline and add data that will be added to a central database. When thousands or millions of people join in together the accumulated data tells us all exactly where the problems are and the businesses responsible. Members can also form their own large or small environmental groups to compete against each other all over the world.
Act Now has been joined by hundreds of organisations worldwide, on a quest to put an end to plastic waste, and we welcome further support from, schools, activity and environmental groups from around the world to join in our collective fight against plastic pollution.
By taking part in this international survey to discover the answers is the only way to save us from this destructive material, that threatens to kill us in our millions, strangle our wildlife, and destroy our environment for centuries to come.
The problem of plastic pollution doesn't belong to a single country and flows from the land into our oceans, moving from continent to continent, breaking down into a plastic porridge that we all digest through the food we eat and water we drink.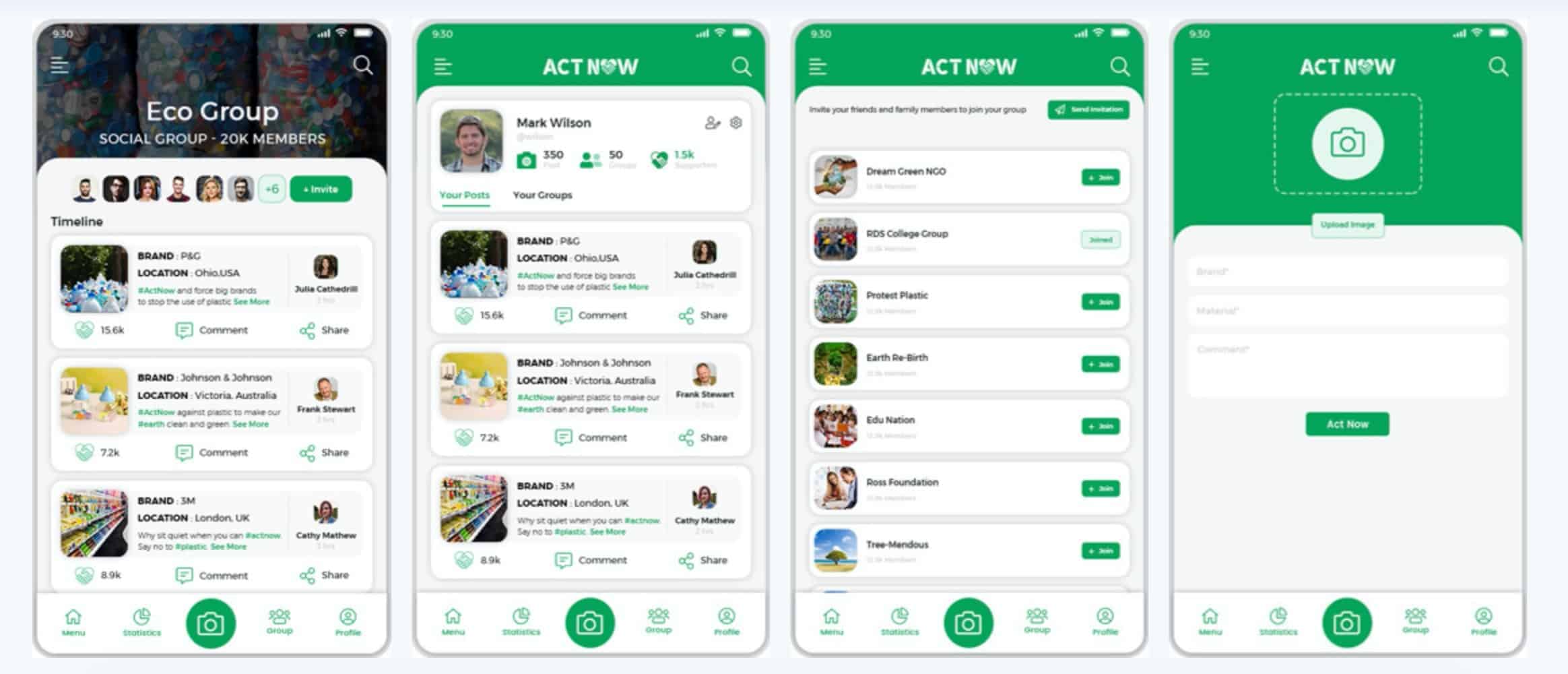 "We cannot destroy it, we cannot bury it, we cannot export it, but we do need to replace it and control it. Recycling is no longer enough… we have to put an end to this destructive and toxic material". Robert Fathers, Chairman of Act Now
Act Now works with organisations, businesses and governments to analyse the data that we produce in order to find definitive solutions to the plastic pollution crisis. The Act Now App will help us understand the scale of the problem by measuring the extent of the current plastic epidemic.
The data and statistics that is generated from this information will be used to create a map of the worst affected areas worldwide. The data can then be used by environmental organisations and other pressure groups, to force changes on companies and governments to alter existing legislation in the way plastic is disposed, manufactured and used.
You can see how the App works by viewing the Act Now video https://youtu.be/MOi76PwDlSQ
https://www.youtube.com/watch?v=9yfDsHtL6O0
Download the App to take part in the first international project to solve the problem of plastic pollution.
iPhone https://apps.apple.com/app/id1492418879
Google Play Store https://play.google.com/store/apps/details?id=com.app.ActNow&hl=en
Robert Fathers, Chairman. Act Now Limited
robert@actnoweco.com
www.actnoweco.com
Telephone +44 (0)117 3183828