Great Elephant Census Reveals Massive Population Decline in African Savanna Elephants
HONOLULU, Aug. 31, 2016 – The alarming results of the Great Elephant Census (GEC), the first-ever Africa-wide survey of savanna elephants, were announced on Wednesday at the International Union for Conservation of Nature (IUCN) World Conservation Congress by Paul G. Allen's Vulcan Inc.. The census shows a decline of 30 percent in African savanna elephant populations in 15 of the 18 countries surveyed.
"I don't think anybody in the world has seen the number of dead elephants that I've seen over the last two years," said Mike Chase, GEC principal investigator and founder of Elephants Without Borders.
The ambitious three-year Great Elephant Census, funded by philanthropist and Vulcan founder Paul Allen, used a fleet of small planes to find and count savannah elephants.
"This was an extraordinary collaboration across borders, cultures and jurisdictions. We completed a successful survey of massive scale, and what we learned is deeply disturbing," said Allen. "Armed with this knowledge of dramatically declining elephant populations, we share a collective responsibility to take action and we must all work to ensure the preservation of this iconic species."
Over a two-year period, using standardized data collection and validation methods, the GEC accurately determined the number and distribution of the great majority of African savanna elephants and provides a baseline for future surveys and trend analyses.
Final results show:
Savanna elephant populations declined by 30 percent (equal to 144,000 elephants) between 2007 and 2014.
The current rate of decline is 8 percent per year, primarily due to poaching. The rate of decline accelerated from 2007 to 2014.
352,271 elephants were counted in the 18 countries surveyed. This figure represents at least 93 percent of savanna elephants in these countries.
Eighty-four percent of the population surveyed was sighted in legally protected areas while 16 percent were in unprotected areas. However, high numbers of elephant carcasses were discovered in many protected areas, indicating that elephants are struggling both inside and outside parks.
African elephants are imperiled by poaching and habitat loss. Despite global attention to the plight of elephants, their population sizes continue to decrease. There were estimated to be more than 1 million during the early 20th century, but the population plummeted in the past decades.
Populations recovered in some countries following a Cites trade ban in 1989, but since the early 2000s, the rise of the middle classes in the far east has fueled a new demand for ivory products.
"This project required a Herculean effort on the part of many partners since its launch in December 2013, with 81 airplanes and 286 crew members flying roughly 463,000 kilometres to complete the survey," said Vulcan wildlife conservation director James Deutsch.
Until now, surveys had been fragmented or isolated, and undertaken on a regional or country-by-country basis.
"If we can't save the African elephant, what is the hope of conserving the rest of Africa's wildlife?" said Mike Chase. "The biggest action that would tackle the crisis would be to end demand for ivory and close down the market".
"People talk about poaching, but in the long-term it's also about securing space for habitat. Elephants are under siege. In 15 of the GEC countries, the human population is going to double by 2050. Elephants will be compressed to eke out a living in small islands of protected areas. We need to give them the space and freedom of Africa."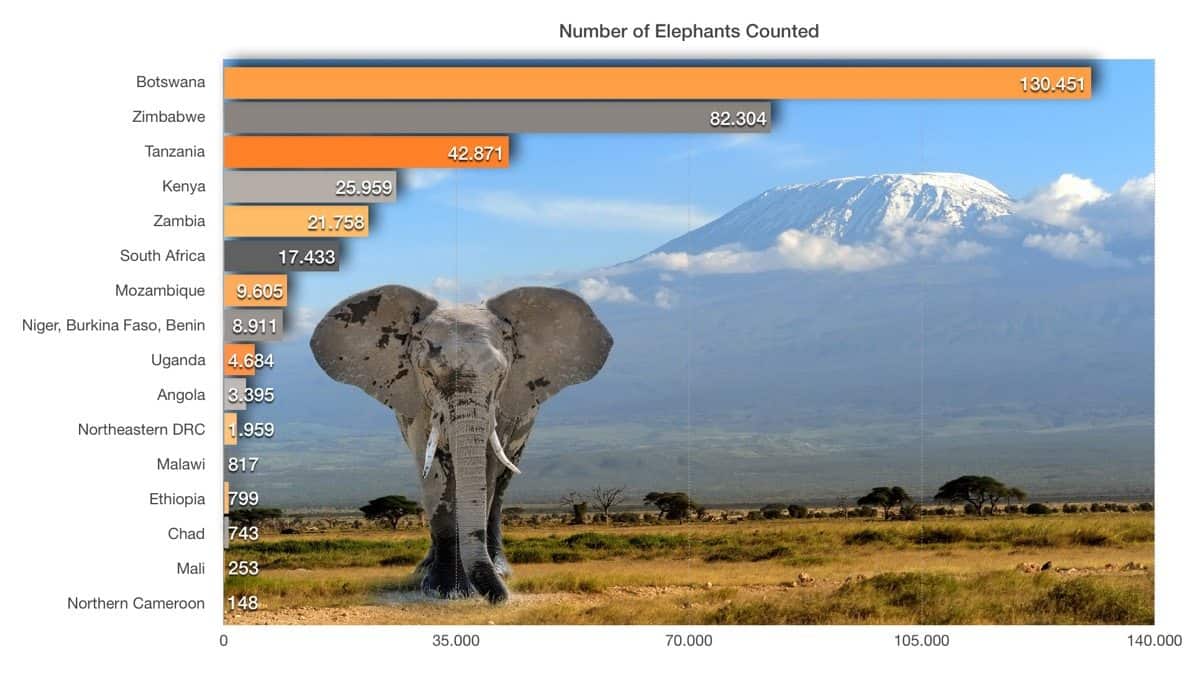 African Conservation Foundation graphic | Source: Great Elephant Census
Deeply troubled by what the GEC revealed, Mr. Allen has made elephant conservation a top priority and is working with individuals, organizations and governments from around the world to ensure that future generations will be able to see elephants with their eyes and not just read about them in books.
New initiatives include the launch of a forest elephant census in regions where poaching is thought to have devastated herds and adequate population data is critically needed. Vulcan has also developed a visual data platform that provides real-time intelligence for protected management areas. The new system has been deployed as a pilot program in Kenya.
Finally, to generate a broader understanding of the critical plight of African elephants, Paul Allen's Vulcan Productions is releasing two films this year – "The Ivory Game," an undercover feature-documentary, set to expose the dark world of ivory trafficking; and "Naledi: A Baby Elephant's Tale," the true story of a baby elephant born into an elephant rehabilitation program in Botswana and is orphaned at the age of one month.
For more information on the GEC results, please see:
The African Elephant Atlas , an interactive web-based data visualization of Vulcan's Great Elephant Census Report
Principal Investigator, Mike Chase's " Continent-wide survey reveals massive decline in African savanna elephants," paper.
Those interested in further updates can follow the Great Elephants Census on Twitter, Facebook, Google Plus and Paper.li.